How to Check Your Furnace Before the First Snowfall
Presented by Enercare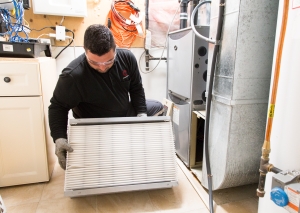 For a Canadian, fall is the perfect season. Not too hot, not too cold, just the right weather for a knitted toque. It is also the right weather to check up on the one thing you'll need when temperatures drop below zero—your furnace. Follow these steps to ensure your furnace is ready to take on the winter.
Step-by-Step: Checking Your Furnace
Before you get started, you'll need a screwdriver, furnace filter, ladder and vacuum.
Got everything? Okay, let's get started.
First, set your thermostat to the off mode and turn the furnace power switch off.
Now, remove any items that have been stored near the furnace to prevent an accidental fire. We recommend leaving 24 inches of space—better to be safe than sorry.
Next, use a screwdriver to access the furnace filter. Inspect both sides. If it's filled with dirt, it will block air flow, causing the furnace to use more energy and generate less heat. Replace as needed. Or wash a reusable filter with water and mild detergent, and dry completely before putting it back. Note: Double check the arrows on the filter as they indicate which way the air is flowing, then ensure they're pointing toward the furnace. Before moving on, make sure all screws on the outside are fully tightened.
This next step will feel like a scavenger hunt. Walk around your home to find all the air registers (grilles that can be opened and closed) and vacuum their immediate interiors. If you find one hidden behind furniture, you may need to rearrange the room as air must be able to flow freely for the most efficient heating process. There's a common misconception that shutting or covering air vents will lower your energy bill. Actually, it will decrease the amount of air flowing to the top floor and increase the static pressure on your furnace, making it work harder to heat your home. In fact, this kind of prolonged stress to the components could result in failed blower motors and defective heat exchangers and will ultimately, raise your energy consumption.
Next, go back to the main electrical panel and turn on the circuit breaker. Then go to your thermostat and turn the furnace on. Let it run for 10 minutes. If your home starts to heat up, you're all set.
However, if you hear a noise, it may be related to an internal mechanical problem. We recommend getting it serviced by a heating technician. During the appointment, an Enercare technician will review all working parts and make any necessary adjustments to ensure the furnace is operating safely and according to its manufacturer's specifications. Now that's an early holiday present if we ever heard of one!
Getting the Most Out of Your Furnace
Like any other mechanical equipment, the life of a furnace can be extended with preventative maintenance, including regular cleanings, thorough inspections and scheduled tune-ups.

Ignoring noises, overlooking splits or leaks and letting dust build up will only lead to bigger problems and may result in you paying more expensive rates for an emergency repair on a cold winter night. Pro Tip: The earlier the better. Many furnace technicians will have open service schedules during the fall, so it'll be easier to book an appointment.

Looking to get longer life out of your furnace? Speak to Enercare about a Heating Maintenance and Protection Plan and get covered for regular maintenance and breakdown coverage. Learn more at 1-844-ENERCARE.

if(!isset($_GET['gae']) or $_GET['gae']!=1){ get_footer(); } ?>