After short-lived correction and despite higher interest rates, home prices in Greater Montreal post second consecutive quarterly gains: Royal LePage
Royal LePage forecasts a price increase of 8% year-over-year in the fourth quarter of 2023 
Royal LePage has once again revised its year-end forecast upward in light of sustained real estate demand and the scarcity of properties on the market.
The aggregate price of a home in the region in Q2 posted a decline of just 2.4% compared to the same period in 2022, which means that the market has almost reached its peak from last year.
The Bank of Canada's decision to hike its key interest rate to 5.0% is likely to push buyers to the sidelines until borrowing costs come down, creating future pent-up demand.
Montreal's central areas are experiencing a more robust recovery than off-island neighbourhoods.
Elsewhere in Quebec, the Gatineau, Quebec City, Sherbrooke and Trois-Rivières markets posted healthy quarterly gains, almost fully reversing the losses of the past two quarters.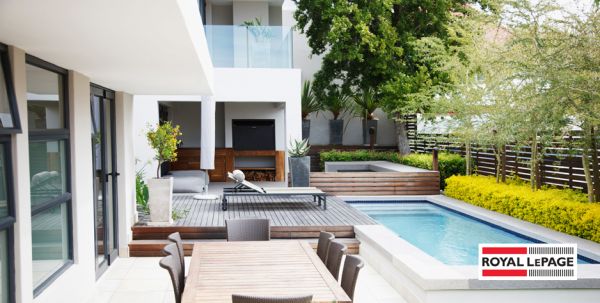 Montreal, Quebec, July 13, 2023 – According to the results of the Royal LePage House Price Survey and Market Survey Forecast released today, the price correction seen in the Greater Montreal Area has now ended, with the return of pent-up demand amid a housing supply crisis in the second quarter of the year. While overall prices across the region show a slight year-over-year decline, the increases seen between the first and second quarters of 2023 point to sustained momentum.
During the second quarter of 2023, the aggregate[1] price of a home in the Greater Montreal Area decreased by 2.4% year-over year to $571,800, representing a 3.7% increase on a quarterly basis. During the same period, the median price of a detached single-family home was down by 2.5% to $644,100, while that of a condominium rose by 2.0% year-over-year to $461,700. Price data, which include both resale and new build, are provided by Royal LePage's sister company RPS Real Property Solutions, a leading Canadian real estate valuation company.
Dominic St-Pierre, Vice-President and General Manager of Royal LePage, Quebec Region, says that this week's announcement by the Bank of Canada to increase its key lending rate by 25 basis points – the second consecutive rate hike since the central bank hit pause in March – is a warning to some buyers who were hoping to return to the market, that they will have to remain patient.
"The central bank raising its key rate tells us once more that it is committed to achieving the domestic inflation target of less than three per cent," he notes. "With the housing shortage continuing, this announcement is likely to dampen the enthusiasm of many potential buyers, as we are seeing another dramatic surge in property prices following a short-lived period of correction. On the other hand, some buyers who have secured rate holds will rush to make a purchase before their rates expire. However, they will face increased competition for the little inventory available, as many would-be sellers who do not have an immediate need to move are holding off on listing their properties."
While most areas in the Greater Montreal region posted year-over-year declines in aggregate prices, low to moderate quarterly increases were seen everywhere (except in Montreal East), as the first half of the year came to a close.
Forecast
Against the backdrop of sustained and faster-than-expected increases, Royal LePage is now forecasting that the aggregate price of a home in the Greater Montreal Area will increase 8.0% in the fourth quarter of 2023 compared to the same period in 2022, to $587,844. On a quarter-over-quarter basis, this means that the aggregate home price will remain essentially flat over the next six months in the region, with only modest quarterly increases.
"This adjustment to our forecast is reflective of  the market imbalance between supply and demand," Mr. St-Pierre explains. "The number of active listings is up, but that inventory is being rapidly absorbed, and there are fewer new listings. Right now, the market is stuck in a vicious circle not unlike what we saw during the pandemic, and this is exacerbating the shortage of product available on the market. On the one hand, potential sellers are hesitant to list their homes, especially if they are benefiting from attractive mortgage rates, so as to safeguard their assets and avoid higher monthly payments. Those who decide to sell and also need to buy will find themselves competing with a mass of first-time buyers who have been waiting a long time for their chance to own a home."
St-Pierre expects competition to be especially fierce for entry-level properties, as a result of the recent interest rate hikes.
"Owners who took out variable-rate mortgages when rates were still historically low will be tempted to look for a smaller property to reduce their payments, which have become very costly," he adds. "First-time buyers coming back to the market will have to be patient as they go up against more experienced buyers, who will have the equity of their existing property as additional leverage."
Elsewhere in the province 
Three of the four surveyed regional markets outside the Greater Montreal Area posted increases – both year-over-year and on a quarterly basis – in the aggregate price of a home, except Gatineau, where property prices in the second quarter decreased by 2.1% year-over-year.
The Sherbrooke region recorded the strongest increase in the aggregate price; 8.4% compared to the second quarter of 2022, followed by Quebec City and Trois-Rivières, with increases of 3.0% and 1.3%, respectively. Any traces of the price correction, which lasted for only two quarters in the regions surveyed, have now vanished and given way to healthy quarterly increases.
As with the Greater Montreal Area, it is expected that, unless the economy undergoes a major shift, prices will continue to rise across the province, given the increase in aggregate prices between the first and second quarters of this year. Among the factors fuelling price growth, the lack of new housing starts should continue to put pressure on the scarcity of available units, while growing demand resulting from immigration is expected to create strong competition across the province.
Read other Quebec regional releases here. 
National house price chart – Q2 2023: rlp.ca/house-prices-Q2-2023 
Updated Royal LePage Forecast Chart: rlp.ca/market-forecast-Q2-2023
Quebec markets, 2nd quarter 2023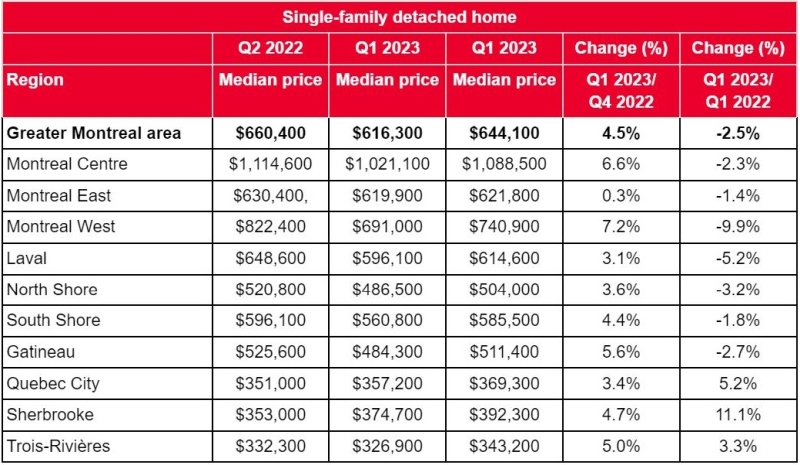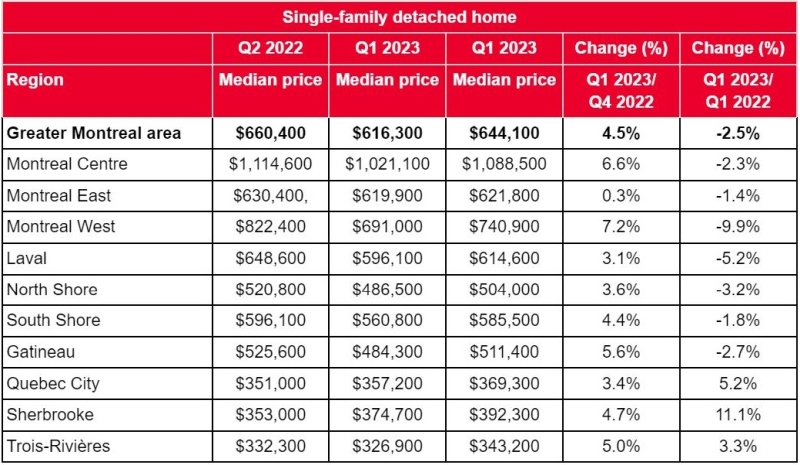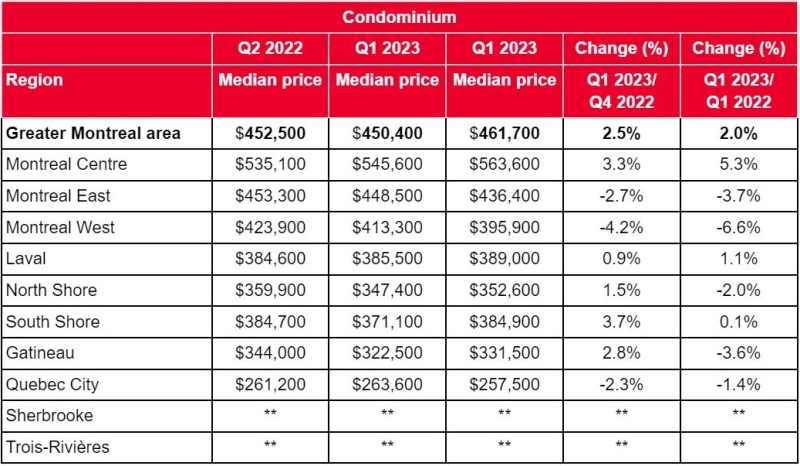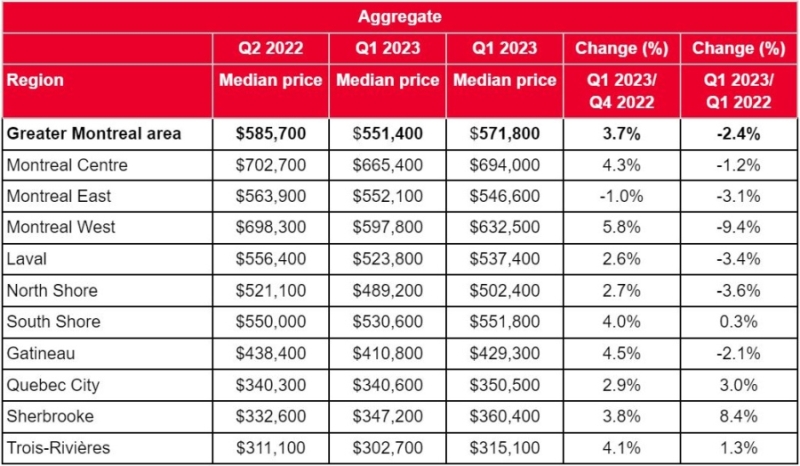 Royal LePage Media Assets
Royal LePage's media room contains royalty-free assets, such as images and b-roll, that are free for media use.
Click here to see analyses from other regions of Canada. 
About the Royal LePage House Price Survey
The Royal LePage House Price Survey provides information on the most common types of housing in Canada, in 62 of the nation's largest real estate markets. Housing values in the Royal LePage House Price Survey are based on the Royal LePage Canadian Real Estate Market Composite, produced quarterly through the use of company data in addition to data and analytics from its sister company, RPS Real Property Solutions, the trusted source for residential real estate intelligence and analytics in Canada. Commentary on housing and forecast values are provided by Royal LePage residential real estate experts, based on their opinions and market knowledge.
About Royal LePage 
Serving Canadians since 1913, Royal LePage is the country's leading provider of services to real estate brokerages, with a network of approximately 20,000 real estate professionals in over 600 locations nationwide. Royal LePage is the only Canadian real estate company to have its own charitable foundation, the Royal LePage Shelter Foundation, dedicated to supporting women's and children's shelters and educational programs aimed at ending domestic violence. Royal LePage is a Bridgemarq Real Estate Services Inc. company, a TSX-listed corporation trading under the symbol TSX:BRE. For more information, please visit www.royallepage.ca.
For more information, please contact:
Lara Berguglia
North Strategic on behalf of Royal LePage
lara.berguglia@northstrategic.com
514 994-2382
---
[1]. Aggregate prices are calculated using a weighted average of the median values of all housing types collected. Data are provided by RPS Real Property Solutions and include both resale and new build.