Is damage caused by my dog covered by my home insurance?
Presented by iA Auto and home insurance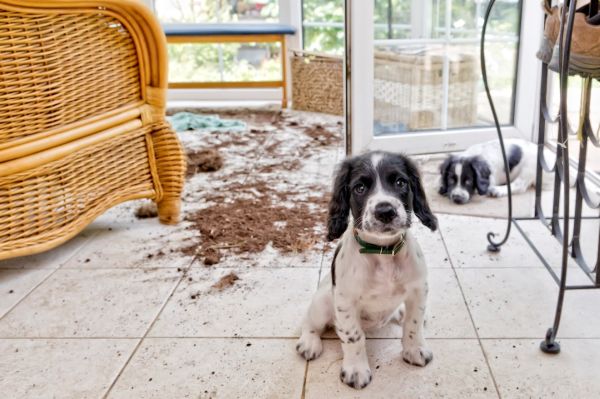 Pets provide a lot of benefits to their owners. But owning a pet comes with a lot of responsibility. In addition to the care and time you need to give to an animal, there's also a civil liability that comes with adoption.
Is my dog covered under my home insurance?
When you adopt a dog or if you already own a dog and you sign up for a new home insurance policy, the first thing to do is to inform your insurer. That way, you'll be protected if your pooch happens to cause some damage.
Nearly 50 percent of animals are not declared by owners, even though it's mandatory. Not informing your insurance company that an animal is living under your roof could have serious consequences. You could be denied a claim and some insurers could even refuse to insure you.
Generally speaking, your pets are covered under your home insurance. Your insurer may be reluctant to insure certain breeds of dogs, though, so discuss it with your insurance agent. When you tell your insurance company that you own a pet, you'll need to choose a home insurance policy that suits your needs, one that covers your home (to cover your property) and your liability (to cover damage to others, for example).
One thing animals have in common is that they're unpredictable. Even if you've done your best to train your dog impeccably, you can never be sure that an accident or damage won't happen. It's a risk to you, to your property, to others and therefore to your insurer.
Am I responsible for damage caused by my dog?
You're responsible for the animal you own. This responsibility includes property damage, but also injury to others. In addition, according to Éducaloi, a person who is looking after an animal may also be considered responsible for the animal. For example, if your friend looks after your dog while you're on vacation and during that time your pet tears up your new sofa, your friend could also be responsible. Or, if you look after your neighbour's dog and it attacks another dog while you're out walking, you could also be held responsible since you were looking after it at the time the incident occurred.
What happens if your dog attacks someone?
As mentioned above, you're responsible for your dog and its actions. So if your dog bites your visitor's ankle or attacks the neighbour's dog, they have the right to sue you. You may have to pay compensation to the person who was bitten or to the owner of the attacked dog. If you have reported your dog to your insurance company and they have agreed to cover it, your liability insurance should provide coverage for this type of claim.
If your dog causes damage, contact your insurance agent to file a claim.
Tips for preventing damage
Although your pet's behaviour is unpredictable, it's still possible to reduce the associated risks. If your dog requires special precautions, don't hesitate to apply them.
First, keep your dog on a leash when you leave your home. It's now mandatory to have dogs on a leash at all times when on public property. If your dog tends to be aggressive, put a muzzle on it and be sure to warn people who approach it.
It's best to have a fenced yard, so your dog can expend energy and learn better behaviour. You'll also prevent your dog from running away or making unannounced visits to a neighbour's yard.
Indoors, avoid leaving things lying around. If your pet tends to chew and nibble, put away your shoes and spray chair legs and furniture corners with a repellent solution.
Keep your pet in a cage, at least initially. For the pet's safety and for the sake of your furniture, this can prevent a lot of damage.
Think about training courses if your pet's behaviour is hard to manage. Dogs can meet other dogs and humans to socialize there and learn to listen to you.
Lack of mental and physical stimulation is often what causes bad behaviour in dogs. Make time for daily exercise and regular mental stimulation. You'll be surprised at how quickly your pet's behaviour improves.
Pets require a lot of care, time and attention. We know how much your pets mean to you. Owning a dog is a long-term commitment, so it's best to be fully aware of all the responsibility it entails.