Create your own Feng Shui living space
Presented by iA Auto and home insurance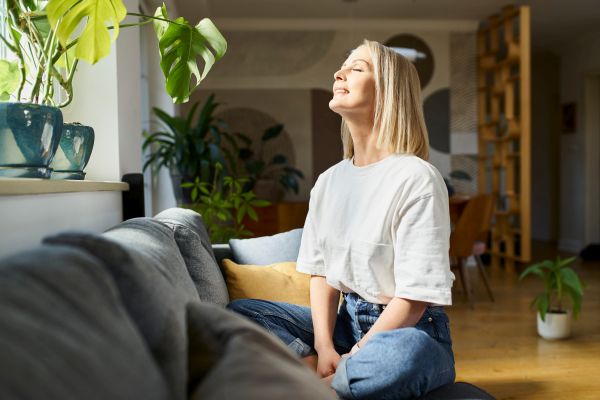 Spring is synonymous with renewal, and now that the season is finally here, it's the perfect time to try new things. Why not rearrange your living space and enhance your sense of wellbeing? One popular decor style is inspired by Feng Shui, a Chinese philosophy that has taken the west by storm and focuses on the free flow of energy, or Chi, from one room to the next.
With a few pointers from this Chinese art of living, you can create a harmonious atmosphere in your own home.
Declutter
The first step in creating a restful space is clearing away clutter. Put away all the things around your home that you don't use or are just in the way. According to Feng Shui philosophy, when positive energy is unable to flow freely, the result can be blockages, frustration and stress. So sort through, throw away or donate the things you no longer use.
Choose suitable colours
Colour has a big impact on mood, which affects the quality of the energy flowing through a space. Cool, pastel colours, such as grey, blue and green, are known as Yin colours. They invite relaxation and are the colours of choice for your bedroom, bathroom and living room. Yang colours, like yellow, orange and red, are warm and vibrant. They energize a room and are commonly used in the kitchen, rec room and front hall.
Your home's orientation and the amount of light in each room will also affect colour choices. A Feng Shui consultant can help you choose the best colours for your interior.
Rearrange your furniture
Try to arrange your furniture to facilitate conversation, relaxation and hospitality. If you have large pieces, like a substantial sofa or wardrobe, try to place them so they don't block the flow of energy in your living space and are not too visually overpowering.
Include natural materials
The five elements—wood, water, earth, fire and metal—can have a positive impact on your wellbeing. Use natural decor such as plants, stones, candles and fountains to create a harmonious atmosphere and bring positive energy to your space. Plants, for example, are a great way to add vitality to a room, and they improve air quality too. According to some schools of thought, stones and crystals bring stability and serenity to a space, while candles create a warm, welcoming ambiance. Fountains can contribute a tranquil and rejuvenating energy and provide a soothing soundscape.
Avoid sharp angles
Opt for soft and curved shapes in your decor, such as round or oval tables, plush cushions and soft carpets, to enhance positive energy. If you have furniture or objects with sharp angles, you can soften their appearance by covering them with fabric or adding rounded cushions or accessories.
Create a meditation space
In Feng Shui philosophy, meditation and relaxation are essential practices for calming the mind and enhancing wellbeing. The best way to accomplish this is to create a space in your home used only for meditation and relaxation. The space could be an entire room or just a quiet corner in your living room or bedroom. The key is to choose a calm, peaceful area where you can relax without distractions.
You can add decorative elements to this space to enhance relaxation and meditation, such as comfortable cushions, soft rugs, scented candles, incense and plants. You can also add items specifically designed for meditation, like a meditation cushion or bench. What's important is to create a space that promotes relaxation and is a reflection of you.
Whether you've just moved to your dream apartment or you're simply rearranging your living space, the key is to feel zen and serene in your home. For even more peace of mind, don't forget about home insurance. If you need to make a claim, your home will be covered and your sense of serenity will be complete. Apply for an insurance policy online with just a few clicks and spend more time enjoying your Feng Shui space.
Try the Feng Shui method now and rediscover your inner peace!