5 ways to be a good neighbour
Presented by Promutuel Insurance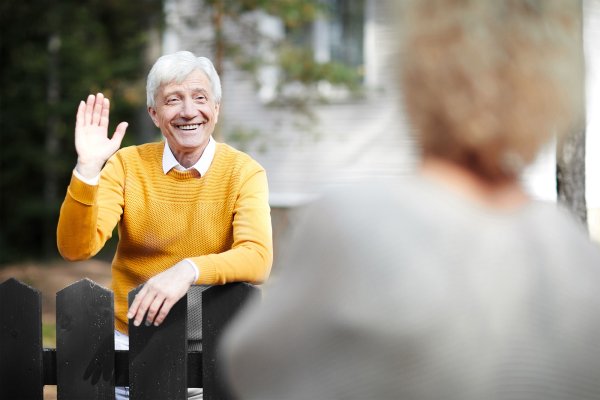 Whether you just bought a home in your dream neighbourhood or spotted some strangers moving in next door, good relations with your neighbours are well worth the effort. Make lawsuits and snarking over the fence a thing of the past with these handy suggestions.
1. Know thy neighbour
No need to show up with a housewarming gift or casserole like in the movies. The key to starting off on the right foot is simple: get to know each other.
If you're the one moving in, make sure you to go introduce yourself to your next-door neighbours. Mention that you want to be a good neighbour and ask for their advice about things like good coffee shops nearby, the best grocery stores, and the best route to school. Your neighbours will be thrilled to help out and share what they love about the neighbourhood.
If you see new people moving in, go knock on their door and introduce yourself, or leave a note welcoming them to the neighbourhood. Be sure to include your email address. It's a nice way to open up the lines of communication without seeming pushy.
2. Know thy property lines
Even if you aren't just moving in, it's a good idea to know where exactly the borders of your lot are located. Take a look at your certificate of location among the papers you got when you bought the property. Figure out where your property ends and your neighbours' begins. That way you can make sure to stay on your side if you ever put in shed, a hot tub, or anything else.
Check whose trees are whose so you won't inadvertently chop off something that doesn't belong to you. And if there's a big tree on your property, it's your responsibility to make sure it doesn't cause problems for your neighbours.
If you have a fenced yard, find out who owns the fence. If it's on the property line, you and your neighbour have shared ownership and will have to agree on how to split the maintenance, repair, and construction costs. Good to know, eh?
3. Communicate
Even the best neighbours aren't always perfect. So always use your words. Your neighbour's dog is forever barking while you're trying to work? Bring it up with them calmly and see if you can find a solution. Your neighbour's cedar hedge is getting out of control and threatening your vegetable garden? Talk it over and suggest some ways to solve the problem. They might even be grateful for your help and sage advice!
4. Be understanding
Your neighbours are likely to be more accepting if you extend the same courtesy to them. So if you put up with the odd party here and there, they might not make a fuss if your barbeque finishes up a little later than expected.
Of course you should always clear any noisier-than-usual parties with your neighbours in advance and warn them of any home maintenance or renovations that might raise a ruckus. This is where establishing good lines of communication pays off—you can get their OK for your little party or politely apprise them if theirs gets a bit out of hand.
5. Understand your rights and obligations
Most municipalities have strict rules about noise, fence types, and minimum yard maintenance. Understanding your rights and obligations as a homeowner will give you a clearer idea of what to do if you cause or experience a neighbourhood annoyance as defined by law.
If, despite all your best efforts, you can't come to an agreement with a difficult neighbour, you could talk to a legal professional to see what can be done.
Did you know there's a legal insurance endorsement you can add to your home insurance? Promutuel Insurance has Juripro, which covers legal fees when you hire your choice of lawyer or notary to advise you, take legal action on your behalf, or represent you in court. Talk to a damage insurance representative for full details.
As with everything else, good, neighbourly relations require a solid foundation. Establish the channels of communication right away, know your property lines and obligations, and get home insurance that meets your needs—you'll be sowing the seeds for harmonious relations with your neighbours. Who knows, maybe you'll end up throwing a block party!