Phil Soper Recognized as Top Canadian in Swanepoel Power 200 for Fifth Consecutive Year
CEO of Brookfield Real Estate Services, which owns Royal LePage, Johnston & Daniel, Via Capitale and Proprio Direct brokerage brands, ranked 14th overall on Swanepoel's list of the 200 most powerful people in residential real estate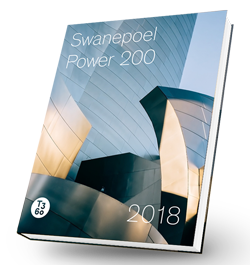 TORONTO, January 23, 2018 – For the fifth year in a row, Swanepoel Power 200 (SP200) has named Phil Soper, President and CEO of Brookfield Real Estate Services, the most influential person in Canadian residential real estate. The SP200 is the definitive ranking of residential real estate leaders across North America. Soper was ranked 14th overall, rising two positions from last year.
"I am fortunate to know many of the women and men in this year's SP200. To be recognized in the same breath of such illustrious leaders is a true honour," said Phil Soper, president and CEO, Brookfield Real Estate Services. "As every good leader who has received a personal award knows, it is the team at your side that does the heavy lifting and they deserve the recognition. Swanepoel's gracious gift of recognition is a testament to our company's commitment to the industry and to our clients."
Soper has an established history of elevating Brookfield Real Estate Services' brands to the forefront of North America's highly competitive real estate industry. In 2016, he became the first Canadian to receive the Real Estate Leadership Award at the U.S. National Realtor Expo as "an industry visionary who embraces innovation and blazes new paths." Real Estate Marketing magazine declared him one the 25 most important leaders of the past 25 years and in 2015, Soper was honoured as "CEO of the Year" by the Canadian Public Relations Society, a first for a real estate industry executive in the long history of the award.
Soper became president of Royal LePage in 2002 and CEO of Brookfield Real Estate Services in 2004. Under his direction, Brookfield Real Estate Services has more than doubled its agent count since its inception in 2003. Prior to his real estate career, Phil Soper was an executive with technology giant IBM where he held national and global leadership roles in professional services and technology sales. He is a graduate of the University of Alberta School of Business, and the University of Western Ontario's Ivey Executive Program.
About Royal LePage 
Serving Canadians since 1913, Royal LePage is the country's leading provider of services to real estate brokerages, with a network of almost 18,000 real estate professionals in more than 600 locations nationwide. Royal LePage is the only Canadian real estate company to have its own charitable foundation, the Royal LePage Shelter Foundation, dedicated to supporting women's and children's shelters and educational programs aimed at ending domestic violence. Royal LePage is a Brookfield Real Estate Services Inc. company, a TSX-listed corporation trading under the symbol TSX:BRE.
For more information visit: www.royallepage.ca.
For further information, please contact: 
Michael Jesus
Kaiser Lachance Communications
647-783-1807
michael.jesus@kaiserlachance.com