Independent real estate agency Propria joins Royal LePage
The Montreal-based agency becomes Royal LePage Urbain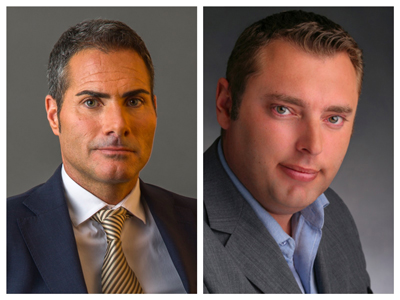 BROSSARD, December 10, 2018 – Royal LePage Real Estate Services are pleased to announce that as of January 7, 2019, the independent real estate agency Propria, located in Rosemont, Montreal, will join the Royal LePage family under the name Royal LePage Urbain. The agency currently has close to 20 real estate brokers under the leadership of Nicolas Roverselli and Yvan Dupas. The agency's brokers will also be assisted by Joey Di Renzo, an experienced real estate broker, in their client presentations and representation with collaborating brokers.
Born in Montreal to French and Québécois parents, Mr. Roverselli grew up in the real estate world. He spent most of his childhood in the South of France where his parents owned real estate agencies. By the age of 17, he was already involved in real estate transactions. At 22, he returned to Montreal and became a certified real estate broker. In 2005, Mr. Roverselli opened his first agency in Plateau Mont-Royal with his colleague Yvan Dupas under the name Plateau immobilier, which changed its name to Propria in 2016 to broaden its reach in the Montreal area. The two business partners have now decided to join Royal LePage to further pursue the Greater Montreal market.
"Royal LePage has developed a solid reputation within the real estate industry throughout Quebec and Canada," said Roverselli. "Royal LePage offers versatility in all market segments, and is especially trusted in the luxury market, which is essential in the niche that my agency is targeting. To ensure that my business reaches its full potential and that our customers receive the best technology and home protection, I have decided to join a growing banner that offers everything under one roof," he concluded.
This partnership also allows Royal LePage to establish itself in Montreal's Rosemont neighbourhood. 
About Royal LePage

Serving Canadians since 1913, Royal LePage is the country's leading provider of services to real estate brokerages, with a network of over 18,000 real estate professionals in more than 600 locations nationwide. Royal LePage is the only Canadian real estate company to have its own charitable foundation, the Royal LePage Shelter Foundation, dedicated to supporting shelters for women and children as well as educational programs aimed at ending domestic violence. Royal LePage is a Brookfield Real Estate Services Inc. company, a TSX-listed corporation trading under the symbol TSX:BRE. For more information visit: www.royallepage.ca.
Media Contact: 
Roseline Joyal-Guillot
Manager, Communications and Marketing, Quebec region
Royal LePage
roseline@royallepage.ca
514.591.0583