Greater Montreal: Royal LePage forecasts modest home price increase in the last quarter of 2022 compared to the same period in 2021, following first quarterly price correction in more than five years
Prices decline on a quarterly basis in Greater Montreal Area for the first time in more than five years as market activity drops, following trend set in greater regions of Toronto and Vancouver last quarter
With the exception of the South Shore, all regions surveyed experienced a quarter-over-quarter decline in aggregate home prices
Montreal Centre and Montreal West recorded their first year-over-year decline in single-family detached home prices since 2018
Royal LePage revises its year-end forecast downwards; Q4 2022 aggregate home prices expected to end the year modestly higher than Q4 2021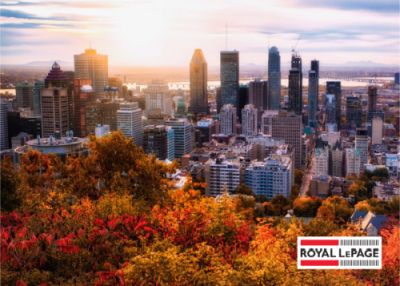 MONTREAL, October 13, 2022 – According to the Royal LePage House Price Survey and Market Forecast released today, all of the Greater Montreal Area regions surveyed saw aggregate home prices decrease on a quarterly basis, with the exception of the South Shore, where the aggregate price held steady over the second quarter. In addition, two neighbourhoods experienced year-over-year declines in aggregate home prices; the first such occurrence since the fourth quarter of 2018, based on the company's historic data.
According to the Survey, the aggregate price[1] of a home in the Greater Montreal Area increased 7.3% year-over-year to $554,800 in the third quarter of 2022, and posted a decrease of 5.3% since the second quarter of 2022 ($30,900). During the same period, the median price of a single-family detached house rose 8.8% year-over-year to $621,400, while the median price of a condominium rose 5.4% year-over-year to $432,600. Price data, which includes both resale and new build, is provided by Royal LePage's sister company RPS Real Property Solutions, a leading Canadian real estate valuation company.
"The Greater Montreal Area's real estate market entered a notable price correction period between the second and third quarters, lagging slightly behind Canada's other two major urban centres," confirms Marc Lefrançois, licensed real estate broker at Royal LePage Tendance in Montreal. "Selling prices are still higher than they were in 2021, but are trending downwards and stabilizing on an annual basis, while market conditions return to balance. This modest correction in real estate prices was inevitable and will provide some breathing room for buyers, but that could be short-lived if economic fundamentals and the global political climate remain as they are today. While prices have declined, demand has not disappeared. On the contrary, many cohorts of buyers, including first-time homebuyers, remain hopeful that prices will decrease enough to meet their budgets. However, there is no indication that interest rates will reverse in the short term, which will counter any affordability gained by the correction in home prices."
Considering current market conditions, Royal LePage has revised its forecast downward and expects the aggregate home price in the Greater Montreal Area to increase 2.5% to $545,915 in the fourth quarter of 2022, compared to the fourth quarter of 2021. This would mean that aggregate prices between the third and fourth quarters of 2022 would be down 1.6%.
The significant increase in inventory levels since the spring has decreased competition among buyers. However, the chronic lack of housing supply and pent-up demand will support moderate price increases over the medium and long term, which will continue to pose a challenge for first-time homebuyers. While the dream of owning a home has intensified during the pandemic, Quebec, like other Canadian provinces, has seen a decline in home ownership over the past five years, from 61.3%[2] in 2016 to 59.9%[3] in 2021. The eroding affordability caused by runaway home prices as well as the construction of rental units in the province partially explain this decline. In addition, an important cohort of baby-boomers have reached the age where maintaining a single-family home has become a burden and renting has become an interesting option. As an additional factor, the growth in immigration to Quebec in recent years may have favoured the rental market at the expense of the ownership rate, considering that for newcomers to Quebec, the average time to purchase a home is four years after arriving in Canada[4].
The unprecedented period of overbidding was halted this quarter by several Bank of Canada interest rate hikes, most significantly with the fourth hike in July, which sent a clear signal that curbing inflation is a top priority for the government institution. This has significantly affected buyer behaviour and reduced their purchasing power.
"Signs of a market slowdown have intensified in recent months, following numerous rate hike announcements by the Bank of Canada. As borrowing costs increased, more inventory started to become available, prompting many sellers to reduce their listing price in order to remain competitive in an environment of reduced demand," said Lefrançois. "To establish an appropriate list price today, we can no longer use comparables from three months ago, but rather look at properties sold in the last 30 days. That's how quickly the market is evolving right now. That being said, the number of properties on the market remains far below pre-pandemic levels in most island neighbourhoods, which is why home prices in the Greater Montreal Area have held up so far."
Although home prices are hardly a bargain today, current market conditions offer considerably greater equality in the negotiation process, according to Lefrançois.
"These days, buyers can take their time to evaluate their options, visit properties within a reasonable timeframe, and include conditions in their offers that suit their needs and protect them. At the same time, sellers can list their homes for sale with the confidence that they will also be able to purchase another property in a less competitive environment," said Lefrançois. "This market softening was necessary. Housing must firstly meet the need to have a roof over one's head. The exceptional profits made by many sellers over the past two years are an exception to the rule that were unsustainable, and this unprecedented period should not be used as a benchmark in the long-term," concluded Lefrançois.
House pricing chart – Q3 2022: rlp.ca/house-prices-Q3-2022
Royal LePage Media Assets
Royal LePage's media room contains royalty-free assets, such as images and b-roll, that are free for media use.
Click here to see analyses from other regions of Canada.
Royal LePage House Price Survey Data
Greater Montreal Area – Q3 2022
Detached single-family home
Region
Median price
Q3 2022
Q3 2022 – Q2 2022 Change (%)
Q3 2022 – Q3 2022 Change (%)
Montreal Centre
$977,800
-12.3%
-7.8%
Montreal East
$610,200
-3.2%
11.7%
Montreal West
$734,500
-10.7%
-1.0%
Laval
$622,600
-4.0%
17.2%
Montreal
North Shore
$495,800
-4.8%
15.3%
Montreal
South Shore
$568,700
-4.6%
8.8%
Greater Montreal
$621,400
-5.9%
8.8%
Condominium
Region
Median price
Q3 2022
Q3 2022 – Q2 2022 Change (%)
Q3 2022 – Q3 2022 Change (%)
Montreal Centre
$510,800
-4.5%
1.7%
Montreal East
$441,500
-2.6%
3.9%
Montreal West
$413,900
-2.4%
0.9%
Laval
$370,900
-3.6%
9.6%
Montreal
North Shore
$358,500
-0.4%
16.4%
Montreal
South Shore
$374,000
-2.8%
13.0%
Greater Montreal
$432,600
-4.4%
5.4%
Aggregate
Region
Median price
Q3 2022
Q3 2022 – Q2 2022 Change (%)
Q3 2022 – Q3 2022 Change (%)
Montreal Centre
$653,800
-7.0%
0.8%
Montreal East
$532,800
-5.5%
6.6%
Montreal West
$657,600
-5.8%
0.8%
Laval
$535,800
-3.7%
14.3%
Montreal
North Shore
$496,200
-4.8%
16.3%
Montreal
South Shore
$551,900
0.3%
12.7%
Greater Montreal
$554,800
-5.3%
7.3%
*The data in the above table may not correspond to those previously reported for the same period due to later updates in the market.
About the Royal LePage House Price Survey
The Royal LePage House Price Survey provides information on the most common types of housing in Canada, in 62 of the nation's largest real estate markets. Housing values in the Royal LePage House Price Survey are based on the Royal LePage Canadian Real Estate Market Composite, produced quarterly through the use of company data in addition to data and analytics from its sister company, RPS Real Property Solutions, the trusted source for residential real estate intelligence and analytics in Canada. Commentary on housing and forecast values are provided by Royal LePage residential real estate experts, based on their opinions and market knowledge.
About Royal LePage 
Serving Canadians since 1913, Royal LePage is the country's leading provider of services to real estate brokerages, with a network of more than 20,000 real estate professionals in over 600 locations nationwide. Royal LePage is the only Canadian real estate company to have its own charitable foundation, the Royal LePage Shelter Foundation, dedicated to supporting women's and children's shelters and educational programs aimed at ending domestic violence. Royal LePage is a Bridgemarq Real Estate Services Inc. company, a TSX-listed corporation trading under the symbol TSX:BRE. For more information, please visit www.royallepage.ca.
For more information, please contact:
Lara Berguglia
North Strategic on behalf of Royal LePage
lara.berguglia@northstrategic.com
514-994-2382
---
[1]Aggregate prices are calculated using a weighted average of the median values of all housing types collected. Data is provided by RPS Real Property Solutions and includes both resale and new build.d
[2] Statistics Canada, 2016 Census: Housing in Canada: Key results from the 2016 Census
[3] Statistics Canada, 2021 Census: To buy or to rent: The housing market continues to be reshaped by several factors as Canadians search for an affordable place to call home
[4] Royal LePage; One in five homes purchased by Canadian newcomers; October 2019.