Greater Montreal real estate market stabilizes in the third quarter, with moderate increase expected in final months of 2023
Royal LePage maintains 8.0% year-over-year forecast for fourth quarter of 2023, despite stabilization of prices in third quarter
The aggregate price of a property in the Greater Montreal Area showed an appreciation of 3.7% this quarter compared to the third quarter of 2022, but stabilized on a quarterly basis
Across the province, there are wide disparities from region to region and between price categories, against a backdrop of ongoing inventory shortages and a wait-and-see approach taken by buyers in some markets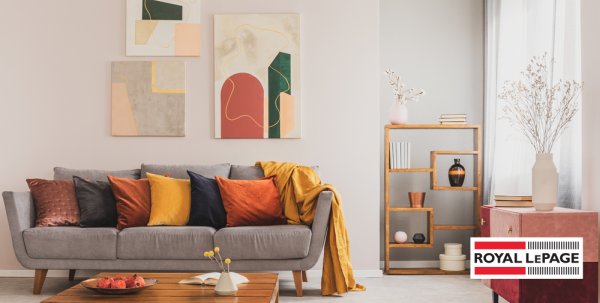 MONTREAL, Quebec, October 12, 2023 – According to the results of the Royal LePage House Price Survey and Market Forecasts released today, property prices in the Greater Montreal Area registered a slight year-over-year increase in the third quarter of 2023. Although the Bank of Canada left its key lending rate unchanged in September at 5%, recent interest rate hikes have continued to erode the borrowing capacity of many  buyers, prompting them to hold back in the hopes of future relief from elevated mortgage financing costs.
In the third quarter of 2023, the aggregate price of a property in the Greater Montreal Area rose 3.7% compared to the same quarter in 2022, to $575,400, representing a quarterly increase of 0.6%. When compared to the aggregate price reached at the height of the pandemic real estate boom in the second quarter of 2022 ($585,700), the aggregate price of a property is 1.8% lower.
When broken down by property type, the median price of a single-family detached home rose 3.9% year over year to $645,800 in the third quarter of 2023, remaining stable at 0.3% on a quarterly basis. During the same period, the median price of a condominium increased 4.0% year over year, declining 2.6% between the second and third quarters, to $449,700. Price data, which includes both resale and new build, is provided by Royal LePage's sister company RPS Real Property Solutions, a leading Canadian real estate valuation company.
"The current market remains slightly in favour of sellers, but is giving way to a balance of power between buyers and sellers," explains Marc Lefrançois, chartered real estate broker with Royal LePage Tendance in Montreal. "The more modest price appreciation can be explained by a dampened appetite from buyers of high-end properties, increasing the supply of homes priced at two-million dollars or more. When inflation rises, consumers restrict their spending to essential needs. If a move can wait, homeowners looking for a property that enhances their quality of life will return to the market at a later date. The entry-level segment remains very active, facing a continued lack of inventory."
Against the backdrop of a shortage of housing supply, Lefrançois believes that it wouldn't take much for the Greater Montreal Area real estate market to slide back into a strong seller's market. Therefore, he does not expect opportunities to improve significantly for buyers who have chosen to wait, since the real estate market will continue to favour sellers in the long term and interest rates are not expected to decline for several months.
Last month, the Government of Canada announced new legislation that extends the five per cent GST rebate to new purpose-built rental housing, in an effort to incentivize the construction of more rental units for Canadians. The federal government says the tax exemption will apply to new purpose-built rental housing, such as apartment buildings, student housing, and senior residences built specifically for long-term rental accommodation.
Despite these efforts, the shortfall in the province of Quebec will take decades to make up at the current rate of new housing starts.
Economists are divided on whether the Bank of Canada will choose to maintain its key lending rate or increase it at the next announcement scheduled for October 25th, after recent Gross Domestic Product (GDP) statistics show the Canadian economy essentially flatlined in July,[1] followed by employment data that shows 64,000 jobs were added last month and the national unemployment rate held steady at 5.5 per cent.[2] If inflation rose in September, which will be revealed on October 17th, there is a higher likelihood that the central bank will increase lending rates.
"Although prime interest rates have reached their highest level in 22 years, they have returned to  historical norms," he says. "The difference between today and the double-digit rate era of the 1980s is that household incomes have not caught up with property price appreciation. Therefore, we cannot simply compare today's prime lending rate of 7% to the much higher rate of 20% seen 40 years ago. We have to consider the higher proportion of one's income that is spent on mortgage costs, " he continues.
Forecast
Despite a stabilization of prices in the third quarter, this is the first time since the second quarter of 2021 that we have seen a year-over-year increase in the number of residential real estate transactions. Royal LePage is therefore maintaining its price forecast for the Greater Montreal Area, anticipating that the aggregate price of a property in the region will end the year 8.0% higher in the fourth quarter of 2023, compared to the same period in 2022. This means that between the third and fourth quarters of 2023, the aggregate price of a property in the Greater Montreal Area will increase 2.1%, ending the year at $587,844.
"If the Bank of Canada maintains its rate for the remainder of the year, we expect buyers to take advantage of this pause to return to the market, which should contribute to higher price appreciation in the final quarter of the year," said Dominic St-Pierre, vice-president and general manager, Royal LePage, Quebec region. "However, as move-up buyers lack the certainty to embark on their next purchase, prices in the upper end of Greater Montreal's real estate market should continue to remain stable."
Provincial portrait
Among the Quebec markets surveyed, Royal LePage price data shows disparities across the province, against a backdrop of economic uncertainty.
Outside the Greater Montreal Area, the Gatineau, Quebec City, Sherbrooke and Trois-Rivières regions all saw their aggregate property prices rise this quarter, compared to the same quarter last year, in different proportions. On a quarterly basis, the Gatineau and Sherbrooke regions saw a decline in prices, reflecting a slowdown in activity during this period.
Overall, prices are set to stabilize in the final quarter of 2023, as potential buyers wait to see what the Bank of Canada's position will be on October 25th.
Read other Quebec regional releases here. 
National house price chart – Q3 2023:
rlp.ca/house-prices-Q3-2023
Updated Royal LePage Forecast Chart:
rlp.ca/market-forecast-Q3-2023 
Quebec markets, 3rd quarter 2023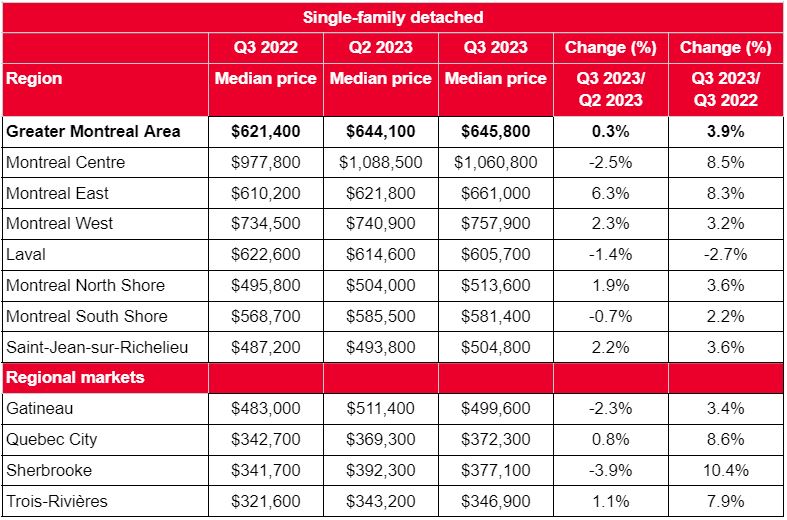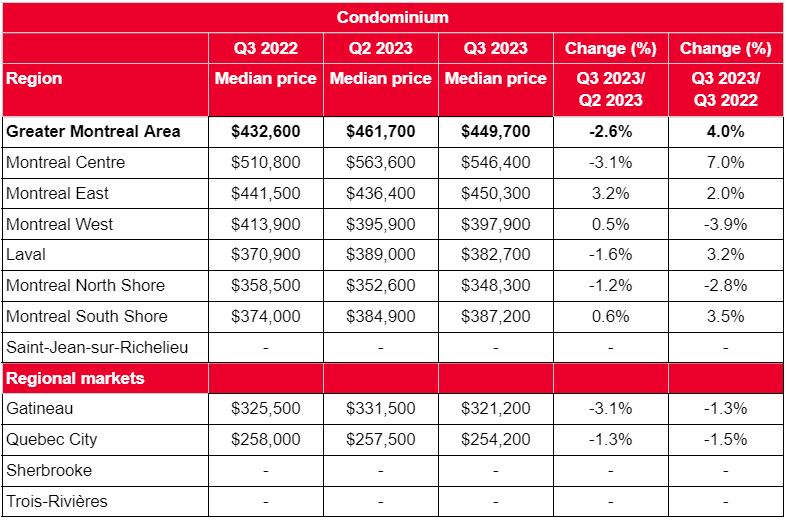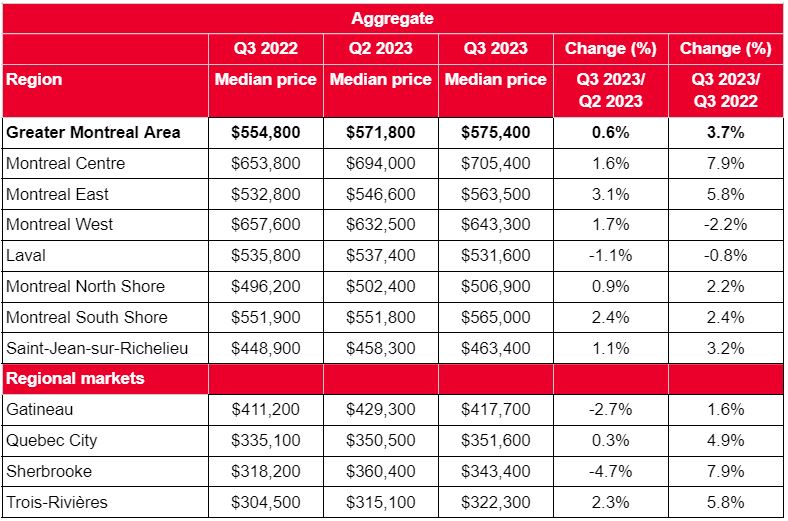 Royal LePage Royalty-Free Media Assets:
Royal LePage's media room contains royalty-free assets, such as images and b-roll, that are free for media use.
About the Royal LePage House Price Survey
The Royal LePage House Price Survey provides information on the most common types of housing, nationally and in 63 of the nation's largest real estate markets. Housing values in the Royal LePage House Price Survey are based on the Royal LePage Canadian Real Estate Market Composite, produced quarterly through the use of company data in addition to data and analytics from its sister company, RPS Real Property Solutions, the trusted source for residential real estate intelligence and analytics in Canada. Additionally, commentary on housing market trends and data on price and forecast values are provided by Royal LePage residential real estate experts, based on their opinions and market knowledge.
About Royal LePage
Serving Canadians since 1913, Royal LePage is the country's leading provider of services to real estate brokerages, with a network of approximately 20,000 real estate professionals in over 670 locations nationwide. Royal LePage is the only Canadian real estate company to have its own charitable foundation, the Royal LePage Shelter Foundation, which has been dedicated to supporting women's shelters and domestic violence prevention programs for 25 years. Royal LePage is a Bridgemarq Real Estate Services Inc. company, a TSX-listed corporation trading under the symbol TSX:BRE. For more information, please visit www.royallepage.ca.
For further information, please contact:
Lara Berguglia
North Strategic for Royal LePage
lara.berguglia@northstrategic.com
514-994-2382
---
[1] Gross domestic product by industry, July 2023, September 29th, 2023
[2] Labour Force Survey, September 2023, October 6th, 2023