How to turn your home into an Enercare Smarter HomeTM
Presented by Enercare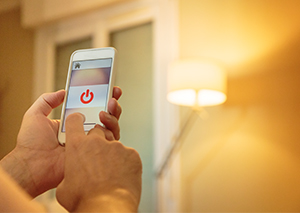 A smart home is a home that makes your life as a homeowner easier. Often seen as the home of the future, the smart home is already available to you and could really make your life easier.
How can you make your home smarter?
By adding some cool and efficient products that can alert you when something goes wrong and more importantly provide you with solutions to fix issues. What makes these products "smart" is the fact that they can be controlled from anywhere in the world with the use of a mobile app. So you can be in Bali and check on your house in Ottawa.
Depending on your needs and budget, you can purchase products individually or hire a company that will charge you a monthly fee to customize a turnkey solution based on your needs and that you can control from your smart phone, tablet or computer through a mobile app. To make sure of a smoother operation the second option is recommended.
Smart Thermostat
Using a mobile app, the smart thermostat allows you to control the temperature of your home, cottage or chalet remotely. For example, you can set it up to be at the perfect temperature just before you arrive for the weekend. A great way to save on energy costs while you are away.
Smart Door Lock
A keyless entry lock that lets you program codes to get into your home, cottage or chalet without a key. Perfect if you rent your home or if you or your kids often lose your keys.
Water Leak Sensor
Advises you quickly via a mobile app of any leaks that could do significant damage. In order to work, leak sensors must be placed in strategic places where water is circulating, like under the sink, near a water heater, a dishwasher or a washing machine.
Smart Light Switch
A good safety feature that enables you to control the lights while you are away. For example, you can turn on the lights when it gets dark at night and turn them off in the morning after sunrise. It gives the impression of a presence in the house. It can also be a safety feature if you arrive home after dark.
Smart Door and Window Contact
Alerts you in real time on your mobile app when your doors and windows are opened. You can even program a camera to start filming as soon as someone opens the door or window. Useful for the chalet or cottage or if you often spend time away from your home.
Smart Video Doorbell
No need to run to the door as soon as the doorbell rings. You can see who is at the door directly from your mobile device. You can even unlock your door remotely to guests or if you have a parcel delivery if you also have a smart door lock.
Smart Home Hub
This is the system that controls all the different smart products. It collects and analyzes data and sends you the results on your mobile app. It's the brain of your smart home system.
These are only a sample of smart home products that are available to you. The best option is to talk to a specialist who can customize the perfect smart home system and make sure everything works well together.
To learn more about Enercare Smarter Home packages, visit our product page.
TMEnercare, Enercare Smarter Home and the design are trademarks of Enercare Inc., used under license.