Welcome to Oakville: Luxury real estate on the shores of Lake Ontario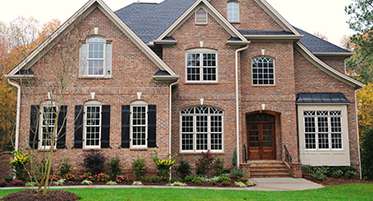 The town of Oakville has established itself as one of the most affluent communities in Canada and a major destination for luxury homebuyers in the Greater Toronto Area. Having maintained its small-town charm while growing to offer big city amenities, Oakville's high quality of life makes it one of the best places to live in the region. Carriage Trade listings in Oakville are generally listed at more than $2.5 million and include modern mansions downtown and waterfront estates with stunning views of Lake Ontario.
The Region
Oakville is located on the shores of Lake Ontario less than 40 kilometres west of Toronto. It is bordered by Burlington to the southwest, Milton to the northwest, and Mississauga to the northeast.
Oakville is a vibrant community and has been growing significantly for decades. Today, it is home to about 194,000 residents as well as national and international corporate headquarters for a range of companies including Ford Canada, Tim Hortons, and Siemens Canada. Despite its growth, Oakville has preserved many heritage buildings and takes pride in its long history.
The Golf
Oakville's Glen Abbey Golf Course is among the most famous places to play in Canada. The course was designed by Jack Nicklaus amid the scenic beauty of Sixteen Mile Creek and is commonly referred to as the "Home of the Canadian Open" as it has hosted the tournament more than any other course. Glen Abbey has come to represent the best of Canadian golf and now includes the Canadian Golf Hall of Fame and Museum, the headquarters of Golf Canada, and the TaylorMade Performance Lab.
Golfers of all levels can also hit the links at Deerfield Golf Club and the Oakville Executive Golf Courses. For those who prefer the private country club experience, the Oakville Golf Club offers exceptional dining and social activities in addition to 18 holes of incredible golfing and picturesque greens.
The Downtown
The six city blocks of historic downtown Oakville feature a mix of over 400 shops, restaurants, and professional services in converted 19th century buildings. Shoppers will find many small, charming boutiques catering to a high end clientele and exceptional restaurants of all kinds. Downtown is full of activity all throughout the year thanks to the many festivals and events hosted by the Business Improvement Association.
The Arts
Oakville has a flourishing arts scene supported by the Oakville Arts Council as well as other local organizations. The Oakville Centre for the Performing Arts downtown serves as the cultural hub of the community and offers shows by both international artists and local performers. Plus, Sheridan College's Trafalgar Campus has produced several Academy Award winning animators from its world famous animation program.
The Parks
There is an abundance of green space in Oakville, including 1420 hectares of parkland, 150 kilometres of trails, and more than 200 parks, garden plots, splash pads, sports fields, and tennis courts. Oakville boasts more than fourteen kilometres of Lake Ontario shoreline, with more than half owned by the town which operates 31 waterfront parks.
Oakville even has its own 6.4 square kilometre provincial park, Bronte Creek. The park includes five hiking trails, a children's farm with live animals, and a massive 1.8-acre outdoor swimming pool.
Environment Canada has said that with just the right amount of precipitation and days under 0 degrees Oakville has some of the best weather in Canada, meaning there is no reason to not get out and enjoy the area's beautiful setting.
The Boating
Located on the shores of Lake Ontario, Oakville is a boater's paradise with two natural harbours: Bronte Harbour on Bronte Creek and Oakville Harbour on Sixteen Mile Creek. Both harbours rent mooring docks and slips for hundreds of powerboats and sailboats each season, and offer launching ramps for transient boaters. Harbour staff can also provide haul-out services, mast stepping, and unstepping. After a day of sailing, relax by the dock at one of the area's many boating and yachting clubs which organize events and regattas all summer long.
Getting In and Out
Getting to Oakville is easy. Toronto's Pearson International Airport is a 30-minute drive away, but international fliers can also travel to and from the region through Toronto City Airport, Hamilton's Munro Airport, or the Buffalo Niagara International Airport.
Carriage Trade Homes
For expert advice about buying or selling a Carriage Trade luxury property in the Oakville area, contact a Royal LePage office in the area.