Luxury real estate at the heart of downtown Montreal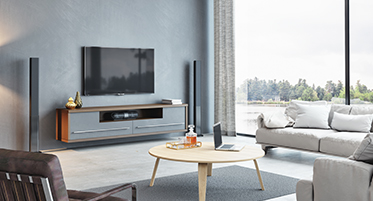 Downtown Montreal is home to some of the city's most luxurious residential real estate treasures. Outlined by the Sherbrooke, St-Antoine, St-Hubert and Guy streets, the area offers a variety of luxury apartments and a handful of prestigious single-family homes.
Perfectly located between Old Montreal and Mount Royal
The streets of downtown Montreal are booming with the construction of condo towers, and many business people are moving there to match the pace of their busy lives and enjoy the city's highlights right on their doorstep.
From de la Montagne to Maisonneuve Boulevard via Robert Bourassa Boulevard (formerly University Boulevard), potential luxury apartment buyers have a vast selection of homes to choose from.
Downtown luxury condominiums can range from $600,000 to $15,000,000, depending on the building's location, size, and the degree of its reputation. Naturally, additional criteria include style, quality of materials, furniture (often included in the selling price), home automation systems and common spaces such as a fitness facility, an indoor and outdoor pool, a hot tub and a furnished guest lounge. The price can also depend on which floor the unit is on and the quality of the view. Penthouse units offer the largest balcony spaces, which can be furnished as an outdoor living room, adding an extra room.
The Ritz-Carlton on Sherbrooke Street, which recently introduced The Ritz Carlton Residences, is the most popular example of luxury condos in the borough. Owners of these condos get the best of both worlds: living in one of the city's most famous buildings and having access to the hotel's personalized five-star service. Marble, rare wood types and large windows are just some of the basic standard features of these dwellings, regardless of size. The perfect blend of vintage construction and modern elements gives the building a unique look.
Further north of this neighbourhood, Doctor Penfield Avenue, Pine Avenue and Redpath-Crescent Street offer an abundance of prestigious homes with Victorian features, many of which have breathtaking landscaping.
Montreal is an international culinary metropolis and its vast downtown area is home to some of the best restaurants in North America, including Toqué, Europea, Maison Boulud, Laurie Raphaël, Queue de Cheval, Ferreira Café and many others.
High fashion aficionados living in downtown will be spoiled by designer boutiques and high-end department stores such as Holt Renfrew and Ogilvy located on Saint Catherine Street, the busiest shopping street in North America. The borough also includes many shopping centres, such as Eaton Centre, Place Montreal Trust and Place Ville-Marie, which recently built an observatory on its roof.
Buyers of all generations enjoy the night life, cultural events and festivals right in the middle of the action, which add to the distinct qualities of Montreal's downtown neighbourhoods. The entertainment district is also making a comeback little by little each year, with temporary exhibitions popping up each season.
The downtown area is home to three universities, including McGill University – an internationally renowned institution and one of the best universities in the world – Concordia University and the Université du Québec à Montréal.
About the author
A licensed real estate broker at Royal LePage Heritage, Marie-Yvonne Paint has a well-established reputation in the luxury real estate market. The leading real estate broker in Quebec for two decades, Marie-Yvonne works with international clients and has worked on the most prestigious real estate sales in the province.