Lakefront luxury houses in Memphremagog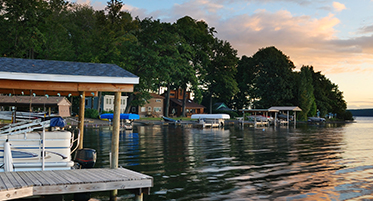 Located along the US border near Vermont and at the edge of the Eastern Townships in Quebec, the Memphremagog RCM offers a variety of landscapes as well as recreational and luxury properties. Only 130 kilometres south of the island of Montreal, its variety of sporting and recreational activities make it the perfect vacation getaway.
High-end homes on Lake Memphremagog
Some of the province's most expensive property sales were recently made in the Memphremagog region.
With 17 municipalities including Magog, Stanstead, Eastman, North Hatley, Orford and Ayer's Cliff, Memphremagog attracts many families from the South Shore of Montreal who want to purchase a second home while keeping a home base in the city. Its proximity to Sherbrooke and the regions of Bromont, Sutton and Brome Lake makes this area a major recreational and tourism hub.
Other prestigious areas of Memphremagog include the towns surrounding Lake Memphremagog: to the east, from Magog to Georgeville in the Stanstead Township, and to the west, from Magog to Austin, where many Quebec business owners have settled down.
Villas and manors on Lake Memphremagog are popular in this region and, in many cases, offer extraordinary views of the lake. For a lakefront property, buyers will find a surprisingly rare price range of $1.1 to $5 million for an average living area of 3,000 square feet with four bedrooms and two and a half bathrooms.
For more tranquility, the municipalities of Austin, Orford, Eastman and Bolton-Est offer several ecological lakes, away from the sound of motorboats.
If a lake view isn't a necessity, a range of luxurious country-style properties usually offers a larger lot and more square footage at a slightly lower price. This may be more appealing to fans of equestrian sports, golf and a chic-rustic style.
In general, the closer buyers want to be to downtown Magog, the more expensive the property will be.
Recreational tourism at its best
There are plenty of sporting activities in Memphremagog RCM. Some of these include a day of skiing at Mont Orford, a leisurely bike ride or a triathlon, a boat trip on Lake Memphremagog or an 18-hole round of golf at the Memphremagog Golf Club.
Wine lovers will enjoy the many vineyards scattered among the hilly roads of the Eastern Townships.
About the author
Passionate about real estate and technology, Christian Longpré served on the Board of Directors of the Chambre Immobilière de l'Estrie for 6 years and was a member of the provincial MLS committee of the Québec Federation of Real Estate Boards as well as its technology committee. Following in his father's footsteps, Christian began his real estate career in 1993. He has been co-owner of Royal LePage Au Sommet since 2007.